Kray twins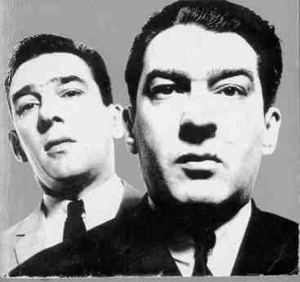 Reginald "Reggie" Kray (1933 – 2000) and his twin brother Ronald "Ronnie" Kray (1933 – 1995) were the foremost perpetrators of organised crime in London's East End during the 1950s and 1960s. Ronald, commonly referred to as Ron or Ronnie, most likely suffered from paranoid schizophrenia. The Krays were involved in armed robberies, arson, protection rackets, violent assaults including torture and the murders of Jack "The Hat" McVitie and George Cornell. As West End nightclub owners, they mixed with prominent entertainers including Diana Dors, Frank Sinatra, Judy Garland and politicians. The Krays were highly feared within their social environment, and in the 1960s they became celebrities in their own right, being photographed by David Bailey and interviewed on television. They were arrested on 9 May 1968 and convicted in 1969 by the efforts of a squad of detectives led by Detective Superintendent Leonard "Nipper" Read, and were both sentenced to life imprisonment.

Ronnie remained in Broadmoor Hospital until his death on 17 March 1995, but Reggie was released from prison on compassionate grounds in August 2000, eight weeks before his death in October from cancer.

Ronnie and Reggie Kray were born on 24 October 1933 in Hoxton, East London, to Charles David "Charlie" Kray, Sr, (10 March 1907 – 8 March 1983), a scrap gold dealer, and Violet Lee (5 August 1909 – 4 August 1982). Reggie was born roughly 10 minutes before twin Ronnie. Charlie and Violet already had a six-year old son, Charlie Jr, (9 July 1926 – 4 Apr 2000). A sister, Violet, born 1929, died in infancy. When the twins were three years old, they were struck down with diphtheria and recovered. Ron almost died from a head injury suffered in a fight with his twin brother in 1942.

In 1938, having previously lived in Stene Street, Hoxton, the Kray family moved to 178 Vallance Road, Bethnal Green. At the start of the Second World War, Charlie Kray Senior was called up into the army but went into hiding, travelling the country as a trader and avoiding the law.

The twins first attended Wood Close School in Brick Lane and then Daniel Street School. They were always trouble; people who knew them were too scared to say anything.

The influence of their grandfather, Jimmy "Cannonball" Lee, led both boys into amateur boxing, which was at that time a popular pursuit for working-class boys in the East End. An element of rivalry between them spurred them on, and they achieved some success. They are said never to have lost a bout before turning professional at the age of 19.

National Service

The Kray twins became famous locally for their gang and the mayhem they caused. They narrowly avoided prison several times, and in early 1952 they were called up for National Service with the Royal Fusiliers. They deserted several times, each time being recaptured.

While absent without leave, the twins assaulted a police officer who had spotted them and was trying to arrest them. They were initially held at the Tower of London (they were among the very last prisoners ever kept there) before being sent to Shepton Mallet military prison in Somerset and gaoled for a month awaiting court-martial. They ended up being gaoled in the Home Counties Brigade Depot gaol in Canterbury, Kent. Their behaviour there was so bad that in the end they were given a dishonourable discharge from the service; for the last few weeks of their imprisonment, when their fate was a certainty anyway, they tried to dominate the exercise area immediately outside their one man cells. They threw tantrums, upended their latrine bucket over a sergeant, similarly dumped a dixie (a large camp kettle full of hot tea on a guard, handcuffed another guard to the prison bars with a pair of stolen cuffs, and burned their bedding. Eventually they were discharged, but not before escaping from the guardhouse and being recaptured by the army one last time. The escape was executed when they were moved from a one man cell to a communal cell and they assaulted their guard with a china vase. Still, once recaptured and while awaiting transfer to civilian authority for crimes committed during their most recent period at large, they spent their last night in Canterbury drinking cider, eating crisps, and smoking cigarillos courtesy of the young National Servicemen who were acting as their guards.

Criminal careers

Nightclub owners

Their criminal record and dishonourable discharge ended their boxing careers. As a result, the twins turned to crime. They bought a run down local snooker club in Bethnal Green, where they started several protection rackets. By the end of the 1950s, the Krays were involved in hijacking, armed robbery and arson, through which they acquired a few clubs and other properties. In 1960 Ronnie Kray was incarcerated for 18 months on charges of running a protection racket and related threats, and while he was in prison, Peter Rachman, the head of a violent landlord operation, gave Reggie the Esmeralda's Barn, a nightclub in Knightsbridge. This increased the Krays' influence in the West End of London, with celebrities and famous people rather than East End criminals. They were assisted by banker Alan Cooper who wanted protection from the Krays' rivals, the Richardsons, who were based in South London. The twins then had a turf war with Islington's then infamous criminal twins, Brendan and Daniel Gallagher.

Celebrity status

In the 1960s, they were widely seen as prosperous and charming celebrity nightclub owners and were part of the Swinging London scene. A large part of their fame was due to their non-criminal activities as popular figures on the celebrity circuit, being photographed by David Bailey on more than one occasion; and socialised with lords, MPs, socialites and show business characters such as the actors George Raft, Judy Garland, Diana Dors, Barbara Windsor and singer Frank Sinatra.

"They were the best years of our lives. They called them the swinging sixties. The Beatles and the Rolling Stones were rulers of pop music, Carnaby Street ruled the fashion world… and me and my brother ruled London. We were fucking untouchable…" – Ronnie Kray, in his autobiographical book, My Story.

Lord Boothby and Tom Driberg

The Krays also came into the public eye when an exposé in the tabloid newspaper Sunday Mirror alleged that Ron had had a sexual relationship with Lord Boothby, a UK Conservative Party politician. Although no names were printed, Boothby threatened to sue, the newspaper backed down, sacked its editor, apologised, and paid Boothby £40,000 in an out of court settlement. As a result, other newspapers were less willing to uncover the Krays' connections and criminal activities.

The police investigated the Krays on several occasions, but the twins' reputation for violence meant witnesses were afraid to come forward to testify. There was also a political problem for both main parties. It was neither in the interests of the Conservative Party to press the police to end the Krays' power lest the Boothby connection was again publicised and demonstrated, or those of the Labour Party because their MP Tom Driberg was also rumoured to have had a relationship with Ronnie.

Frank Mitchell

On 12 December 1966 the Krays assisted Frank Mitchell (nicknamed "The Mad Axeman") (not to be confused with Frankie Fraser – known as "Mad" Frankie Fraser, and contemporaneous, but allied with the rival Richardson gang) in escaping from Dartmoor Prison. Ronnie Kray had befriended Mitchell while they served time together in Wandsworth prison. Mitchell felt the authorities should review his case for parole, so Ronnie felt he would be doing him a favour by getting him out of Dartmoor, highlighting his case in the media and forcing the authorities to act. Once Mitchell was out of Dartmoor, the Krays held him at a friend's flat in Barking Road. However, as a large man with a mental disorder, he was difficult to deal with. He disappeared and his body has never been found. The Krays were acquitted of his murder. Freddie Foreman, a former member of The Firm, in his autobiography Respect claimed that Mitchell was shot and the body disposed of at sea.

Arrest and trial

When Inspector Leonard "Nipper" Read of Scotland Yard was promoted to the Murder Squad, his first assignment was to bring down the Kray twins. It was not his first involvement with Reg and Ron; during the first half of 1964 Read had been investigating their activities, but publicity and official denials surrounding allegations of Ron's relationship with Boothby had made the evidence he collected useless. Read tackled the problem of convicting the twins with renewed activity in 1967, but frequently came up against the East End "wall of silence", which discouraged anyone from providing information to the police.

Imprisonment

On 11 August 1982, under tight security, Ronnie and Reggie Kray were allowed to attend the funeral of their mother Violet, who had died of cancer the week before, but they were not allowed to attend the graveside service at Chingford Mount cemetery in East London where their mother was interred in the Kray family plot. The service was attended by celebrities including Diana Dors and underworld figures known to the Krays. The twins did not ask to attend their father's funeral when he died seven months later in March 1983: this was to avoid the publicity that had surrounded their mother's funeral.

Deaths

Ronnie was eventually once more certified insane and lived the remainder of his life in Broadmoor Hospital, Crowthorne, dying on 17 March 1995 of a massive heart attack, aged 61. His funeral on 29 March 1995 was an enormous event with people lining the streets.

Reggie Kray was a Category A prisoner, denied almost all liberties and not allowed to mix with other prisoners. However, in his later years, he was downgraded to Category C and transferred to Norfolk's Wayland Prison.

In 1985, officials at Broadmoor Hospital discovered a business card of Ron's, which prompted an investigation that revealed the twins – incarcerated at separate institutions – along with their older brother, Charlie, and another accomplice who was not in prison, were operating a "lucrative bodyguard and 'protection' business for Hollywood stars". Documents released under Freedom of Information laws revealed that officials were concerned about this operation, called Krayleigh Enterprises, but believed there was no legal basis to shut it down. Documentation of the investigation reveals Frank Sinatra hired 18 bodyguards from Krayleigh Enterprises in 1985.

During incarceration, Reggie became a born again Christian. After serving more than the recommended 30 years he was sentenced to in March 1969, he was finally freed from Wayland on 26 August 2000, at almost 67-years-old. He was released on compassionate grounds as a result of having inoperable bladder cancer. The final weeks of his life were spent with his wife Roberta, whom he had married while in Maidstone prison in July 1997, in a suite at the Townhouse Hotel at Norwich, having left Norwich hospital on 22 September 2000. On 1 October 2000, Reggie Kray died in his sleep. Ten days later, he was buried alongside his brother Ronnie, in Chingford cemetery.

Elder brother Charlie Kray was released in 1975 after serving seven years, but returned to prison in 1997 for conspiracy to smuggle cocaine worth £69m in an undercover drugs sting. He died of natural causes in prison on 4 April 2000, six months before Reggie's death.